Bigelow Neighborhood History
The Bigelow Neighborhood is located on the east side of East Bay in Olympia, Washington. It is the oldest neighborhood in Olympia, occupying what used to be the Bigelow Donation Land Claim. Its boundaries (in blue) are East Bay Drive on the west, Puget Street on the east, State Avenue on the South, and the northern lots of Bigelow Avenue on the north.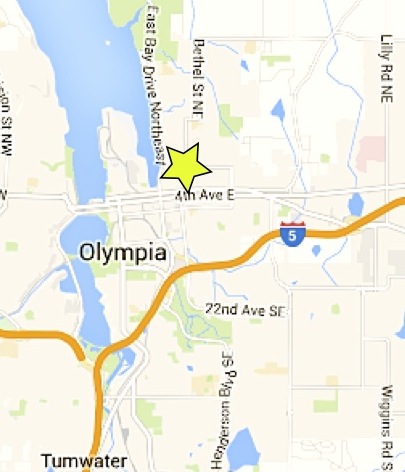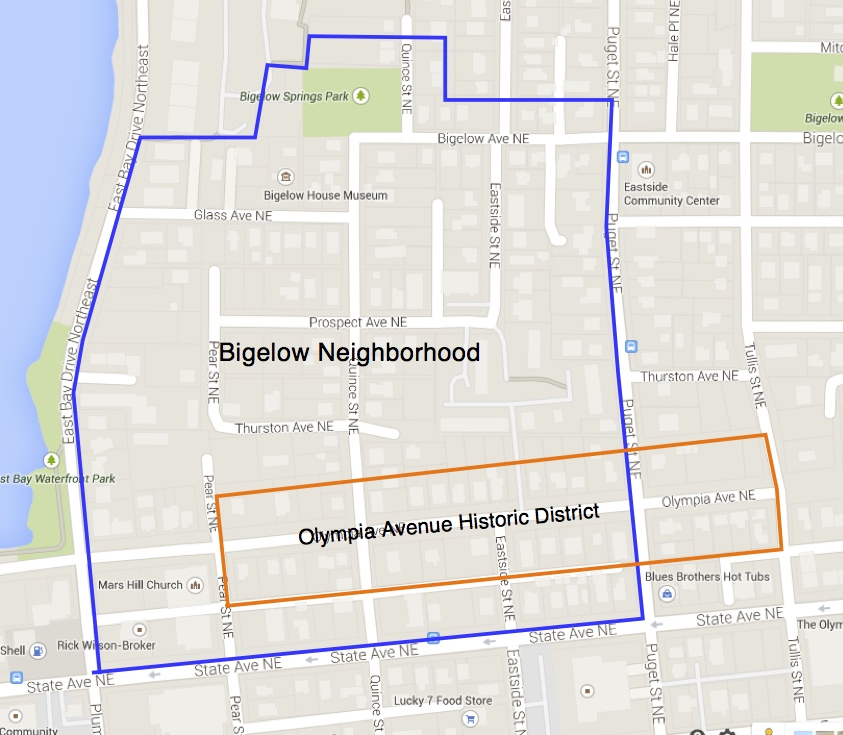 In 1851, Daniel R. Bigelow arrived in Olympia by Schooner, where around 300 white settlers lived. He established a law practice, and filed for a 160-acre donation land claim shown below. On their wedding day in 1854, he and his new wife, Ann Elizabeth, moved into a cabin on the site of their future home, the Bigelow House. By 1860, the house was completed (yellow star below). Here, they raised 8 children. Their descendants lived continuously in this house until 2005.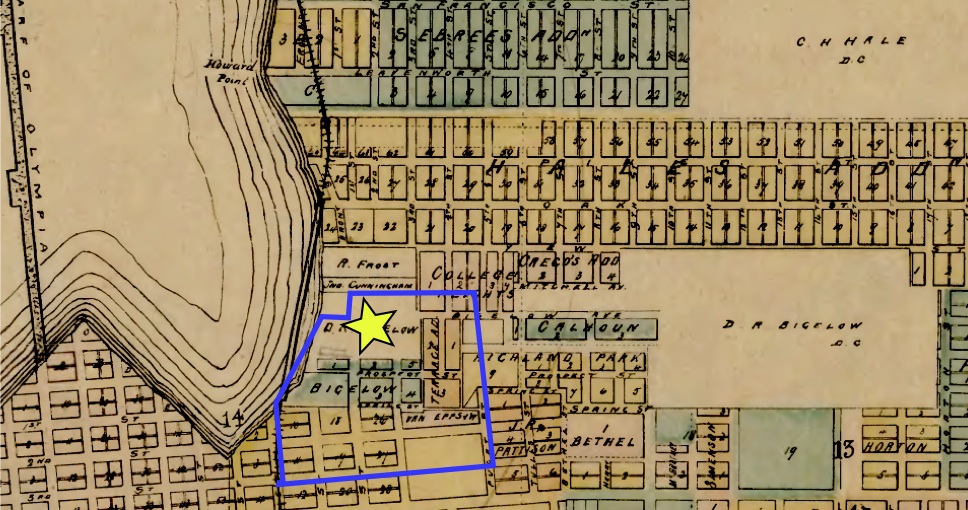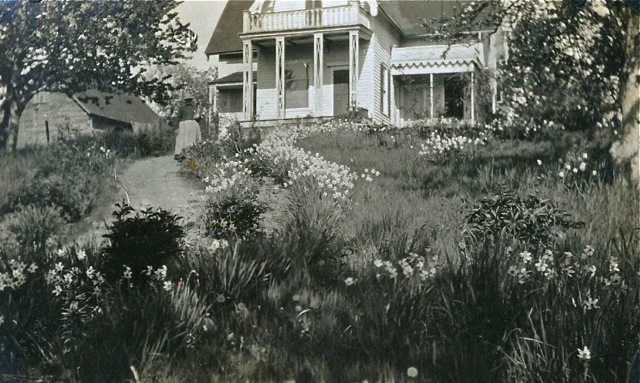 The Bigelow House is one of the the oldest frame structures in Washington, and is now the Bigelow House Museum and headquarters for the Olympia Historical Society. It abuts the Bigelow Springs Park, a beautiful hillside meadow with great views and an artesian well, which was part of the original Bigelow orchard.
The Bigelow Neighborhood is still home to dozens of other well-preserved houses built from 1859 until the 1930's. Please click on Historic Homes Gallery above in the header menu to view them. Until the late 1970's some old houses in the Bigelow Neighborhood fell into disrepair, were demolished and replaced by newer, cheaper construction. This trend gave rise to the Bigelow Neighborhood Association, started by Eric Bailey, Rich Bittner, George and Sylvia Grubb, and other concerned homeowners. Their purpose was to encourage the preservation and renovation of remaining historic properties, to facilitate residents getting to know each other and working together, and to protect a quiet, safe, residential lifestyle. By 1988, the zoning of the neighborhood was changed from commercial to residential 4-8 units per acre. Since then, many old homes have been bought and completely renovated. Many rentals have now become owner-occupied, and when people move in, they are here to stay.
Historic District
In 2006, Olympia Avenue, from Pear to Tullis Streets was designated as the Olympia Avenue Historic District. Most houses along this stretch are on local or national historic registers. Large front porches and architectural ornamentation reflect an appreciation for quality, beauty and social interaction. But be sure to walk the rest of the neighborhood as well. Many other registered historic houses are found on Bigelow and Glass Avenues and Quince and Eastside Streets.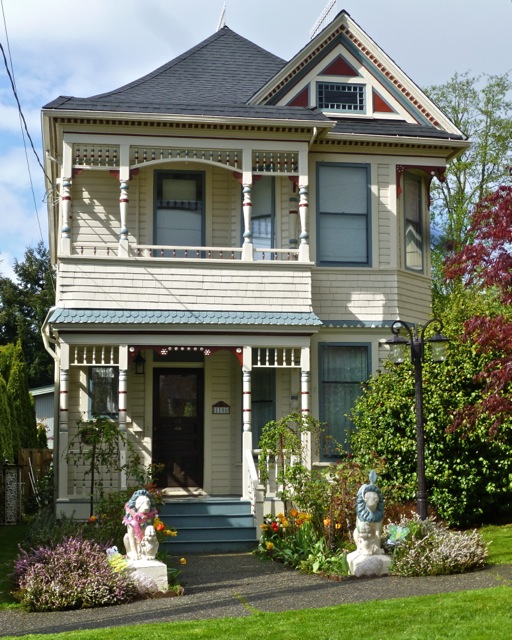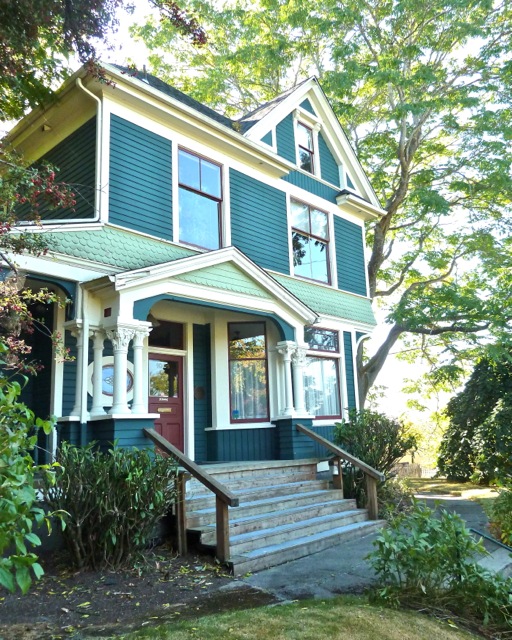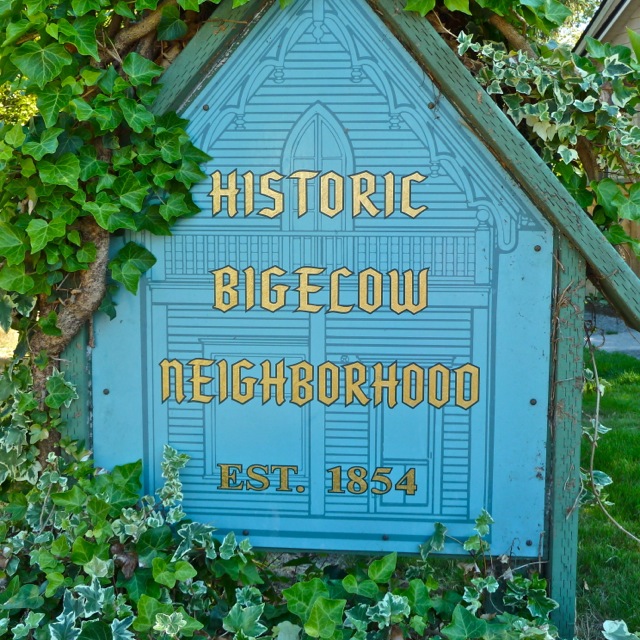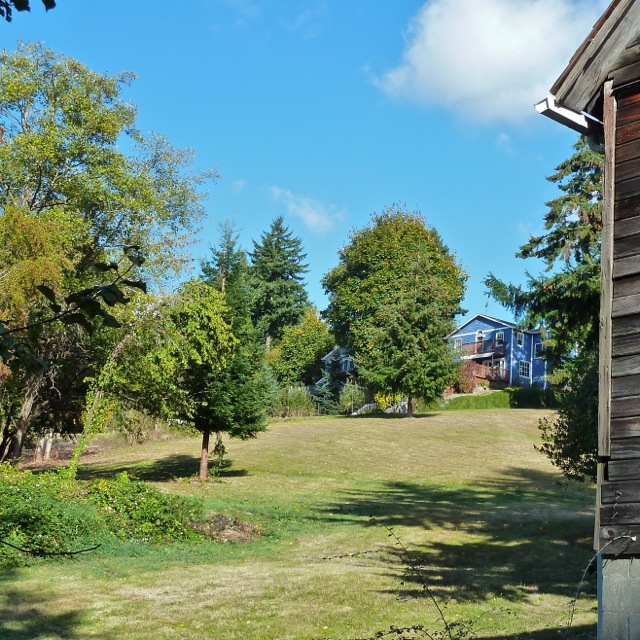 A 10-minute video about the Bigelows, Whites and their history on Olympia Avenue can be seen here.